Hey everyone!
Awhile back I post about a game I was working on called Lucky Knight, and how I was looking for some alpha testers.
However, after reviewing their feedback and bit more play testing myself, I've decided to shelve the the project, for now at least. Try as I might, I just couldn't get the mechanic to be as fun as I wanted. The luck based nature of the game was kind of cool at first, but soon became tedious, and I couldn't see a way out with adding a skill element, which flies in the face of a game being centred solely around luck!
If you're interested you can still play the prototype over on itch.io:
Demo link: https://blit-blat-games.itch.io/lucky-knight
Demo password: BlitKnight
I might revisit the game later, but for now it's R.I.P. Lucky Knight. We hardly knew ye.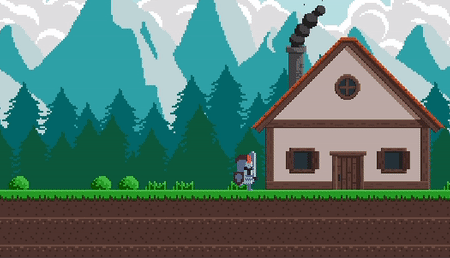 In a way, I'm actually glad to have reached this decision, though. I was struggling for quite a while to make this game work. The demo above is actually the third iteration of this mechanic and I was starting to get bogged down in this at the expense of other projects. Atomic: REDUX is nearly completion and I've also started work on a new game, called THE GAUNTLET.
THE GAUNTLET is a runner game, set 300 years in the future, where people are no longer sent to prison for their crimes. Instead, they have to try and escape a maze of hazardous traps on a reality TV show known as The Gauntlet, until their debt to society is repaid.
Below are the 3 inmates facing The Gauntlet, what do you think their crimes are?